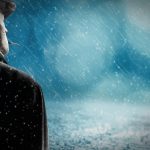 He took a pen and wrote
How life to him looked like
He looked closer in his mind to see
How his life had turned out to be.
Not how he imagined it
So sad and lonely!
A quest to be rich he once hoped for.
And truly he was
A fleet of cars in his name to attest this claim.
Houses and mansion he had,
To choose from as his home
Yet none of this fulfilled his heart.
If u think that he yearned for companionship
I wish u could see his wife!
As she drove through one of their mansions
And packed her red mercedes right beside her husband's lamborghini.
A captivating sight indeed!
But even that didn't match the beauty of Natalia.
The way she stared at you
And u could feel your heart melt in adoration.
As your eyes seem to not have enough time to admire her flawless chocolate face.
All that and more the man had
Buh still not enough to rest his heart.
The warmth of the love of his wife,
The Smell of his money in his wallet,
The company of his several cars
Yet his heart was not fulfilled
So sad… So lonely
His wealth was full to overflowing
But his heart empty!
His heart was empty of fulfillment but to others, he was a man to be admired.
A man to be envied and worshipped by some.
His achievements in business sang by everyone.
Yet to him all seemed vanity!
For the man yearned and yearned for completeness.
A venture perhaps only found in HE WHO IS ABOVE !
but who would be the one to tell him?